ramblings, stories, photos, rants and ravings from James and Penelope, the skipper and first mate of Alizée, a 2001 Cabo Rico 36, who sail, are dragon boaters and otherwise mess about on boats, read, write, volunteer, travel occasionally and otherwise enjoy life to the fullest, and whose skipper plays jazz piano in his quintet All That Jazz.
Friday, January 21, 2005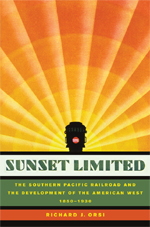 my old friend richard orsi just announced the birth of his book.
sunset limited: the southern pacific railroad and the development of the american west, 1850-1930
. good on you, dick.